20 MARCH 2015
Finnally the full solar eclipse. We were ready this morning, after checking again the weather forecast and seeing that was a similar weather from yesterday, we  decided to start near Longyearbye in the Adventalen Valley. Also as we had to carry the 360 º GoPro 6 cameras and the rest of the team had no snowmobile, has been the best option.At 9:30 we were ready for inflation, but our decision was to take off at 10:30, so we have been waiting for some time, even is difficult when you have good weather and think that maybe later will be more windy. Anyway at 10 we start the inflation and at 10:20 we are ready to take off. With all equipment ready, we take off at 10:30 and we climb slowly to 3000 ft. As we are near the airport , we comunicate with the tower, even we do not expect big planes taking off or landing. All people is waiting already for the eclipse.
At 10:50 , as planned we start to climb to 10000 ft, previous authorization of the controler of Longyearbyen airport, because this was the planned altitude to look at the full eclipse. We climb slowly because the small 42 balloon with 3 persons on board and 2 x 30 Kg cylinders, even the cold temperature (-20 ºC in the ground) , does not permit to climb fast.
Landscape is wonderful , but when it comes the full eclipse, we are all three astonished. Nobody talks and we all try to keep in the deep memory this 3 minutes that we can't stop.
It has been a happy day for us and we are conscious of this privilege. This incredible sight we will remeber forever. After finishing the full eclipse, we think again that we have not excess of propane and we need to finish to pass the mountains to make an easy retrieve. So we stay still high enough to have a good speed and direction and looking at the nice landscape.
When we are already over the valley, we descent and wait or sme minutes flying near the ground to savour a little bit more the flight with this landscape. With 12 % on each bottle after 1 hour and 35 minutes, we land safely with Jacob, our guide for all this days on the side.
It has been a very special experience that we will remember forever.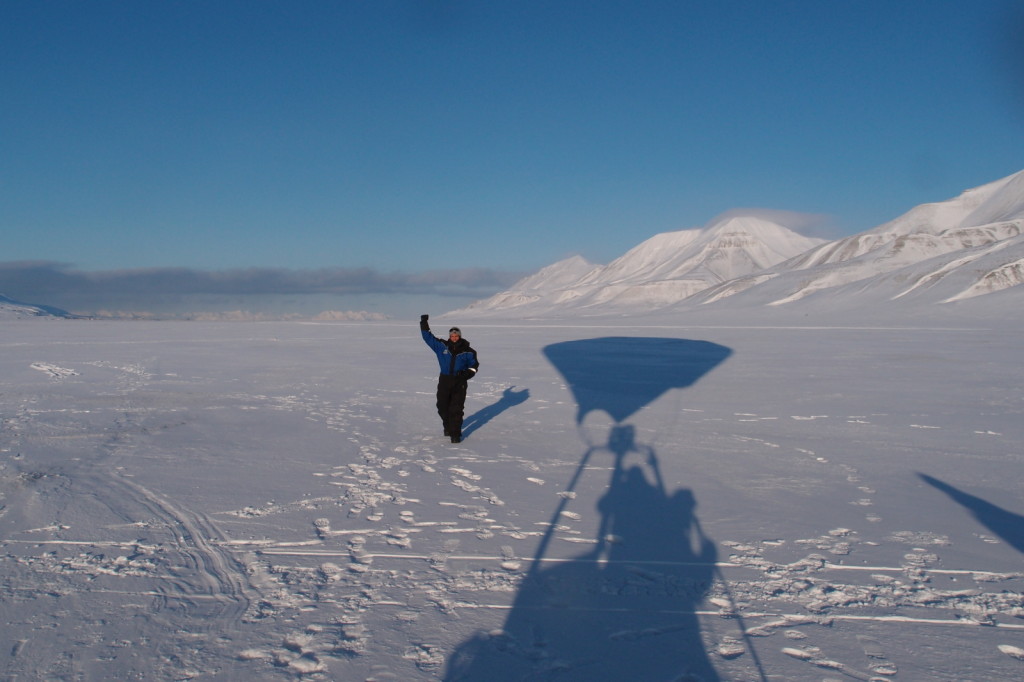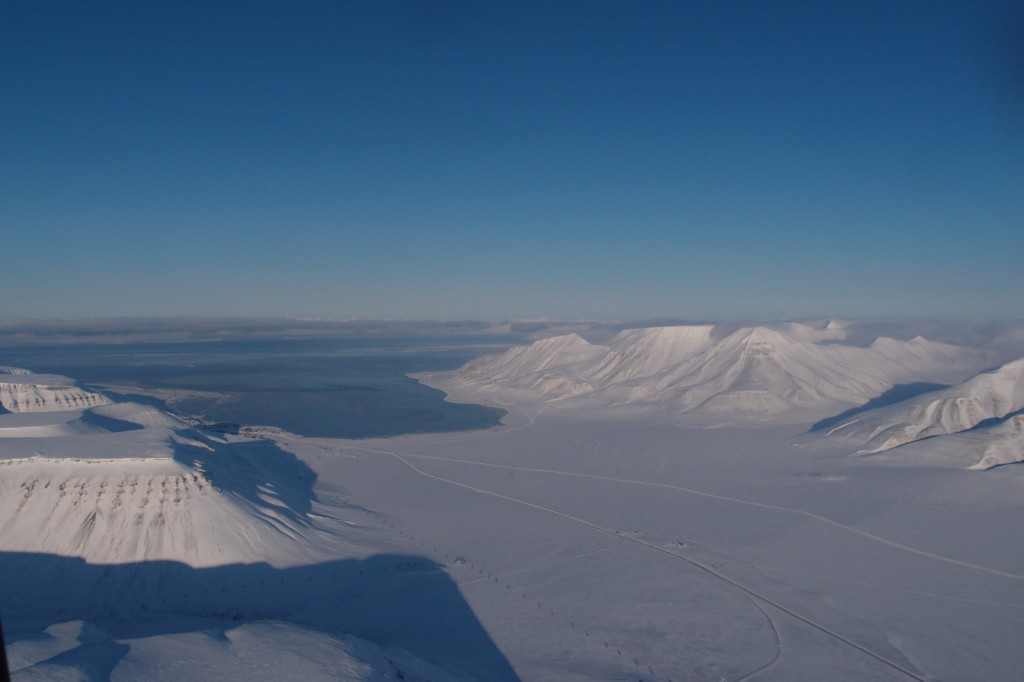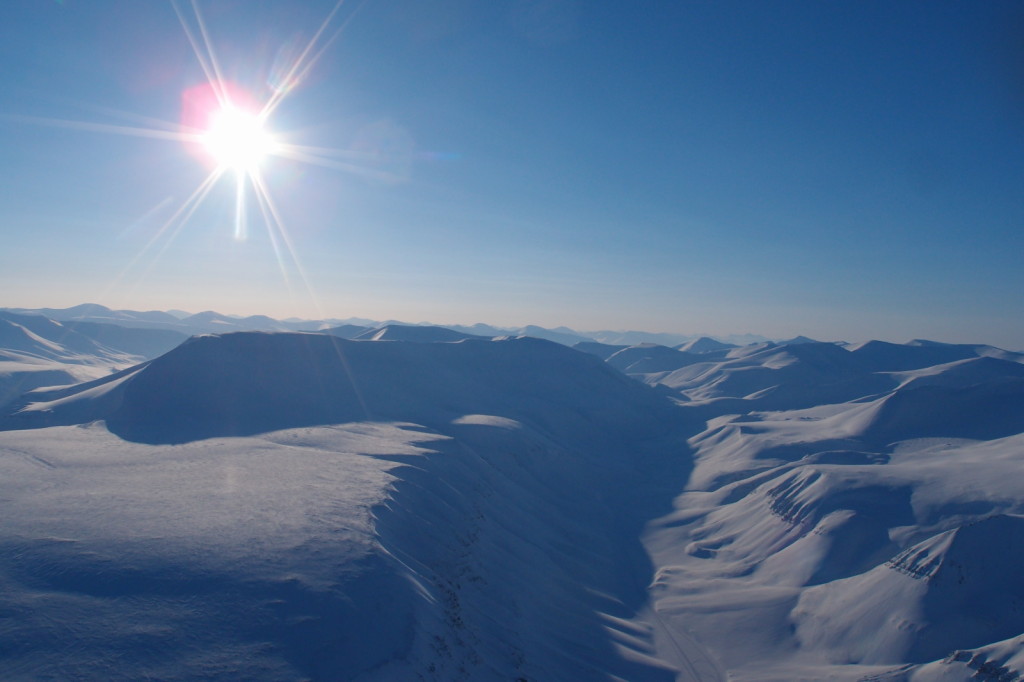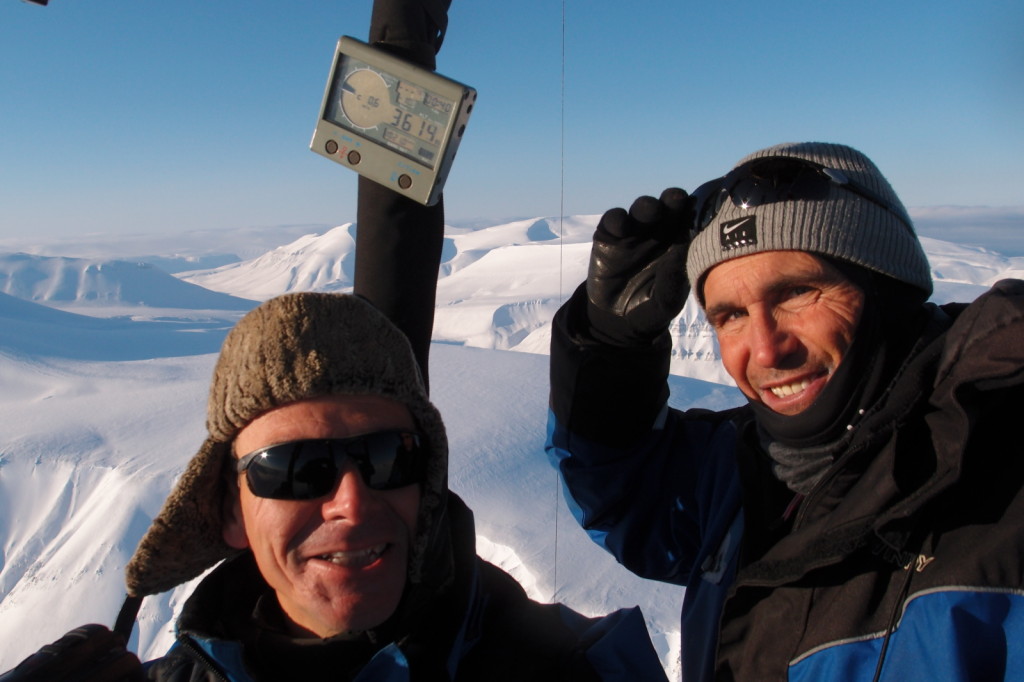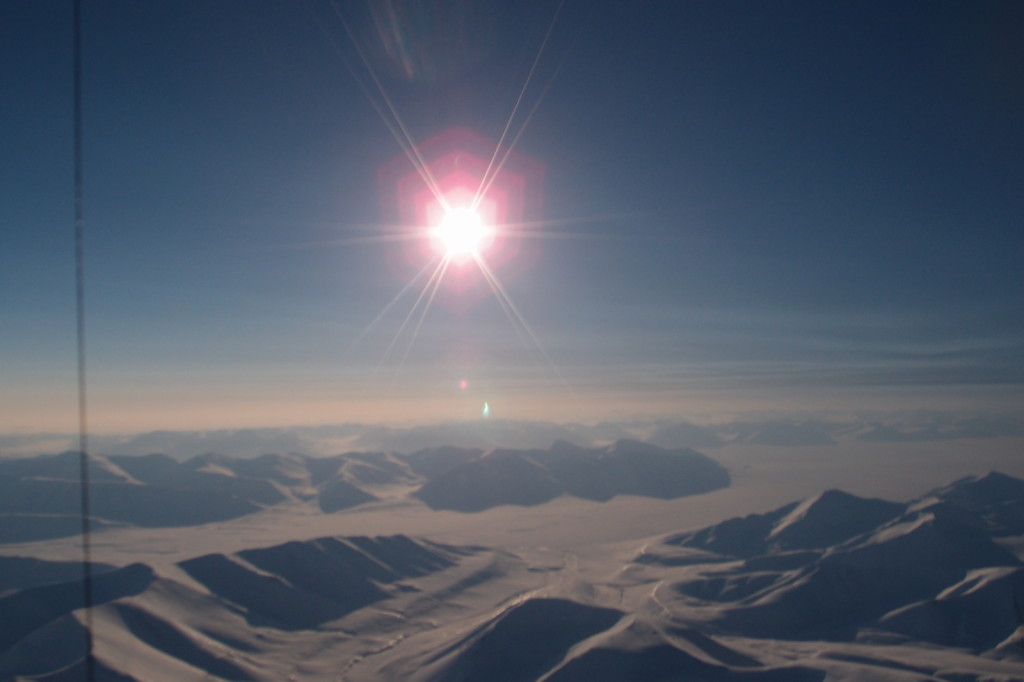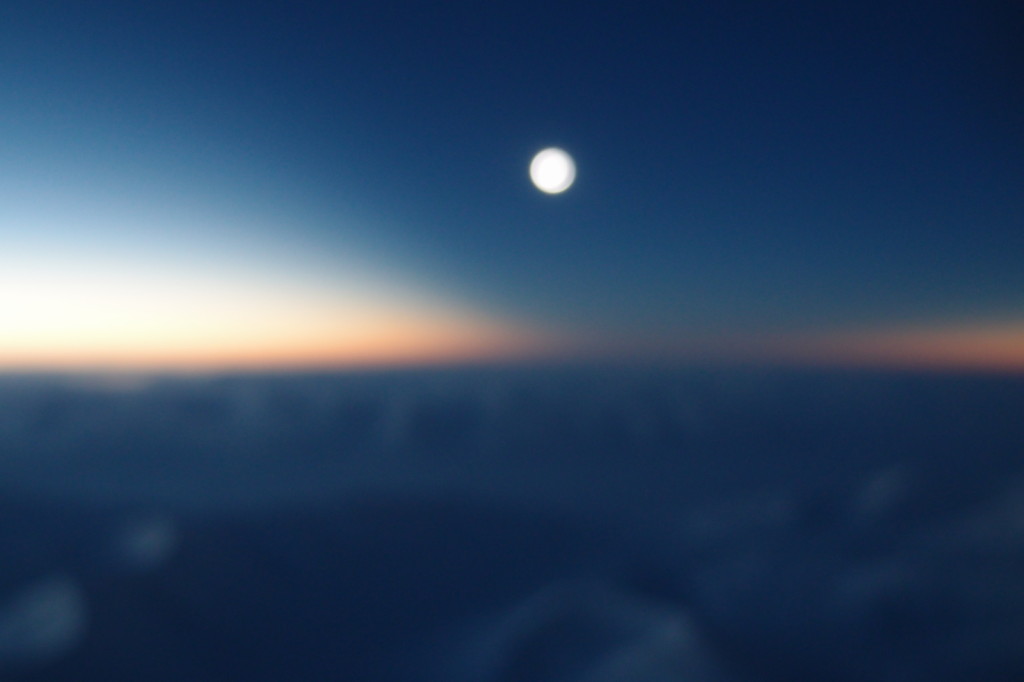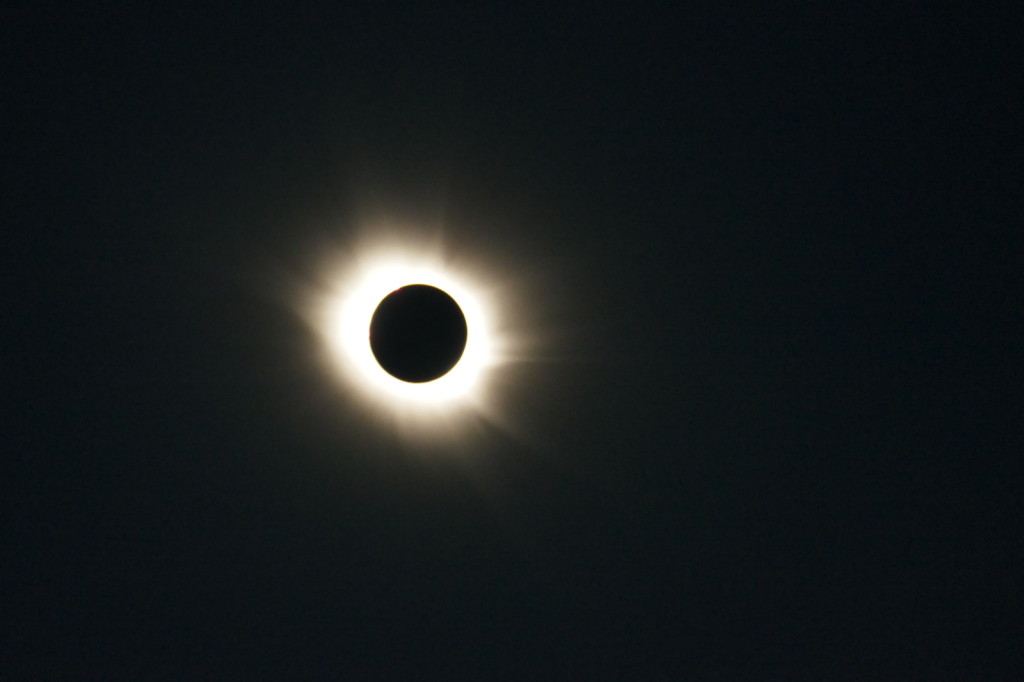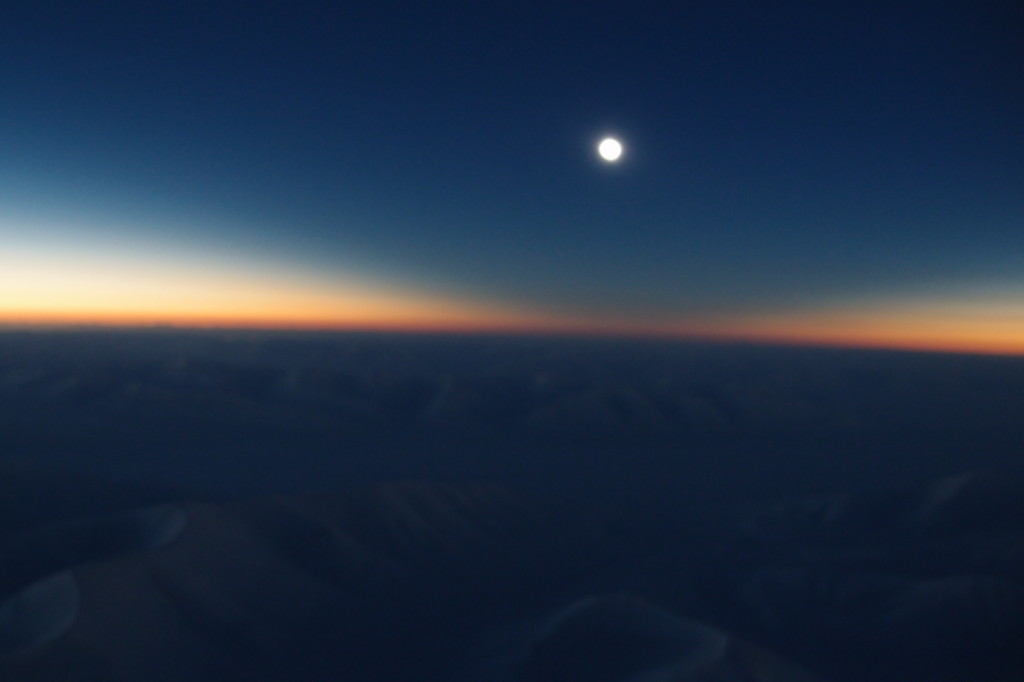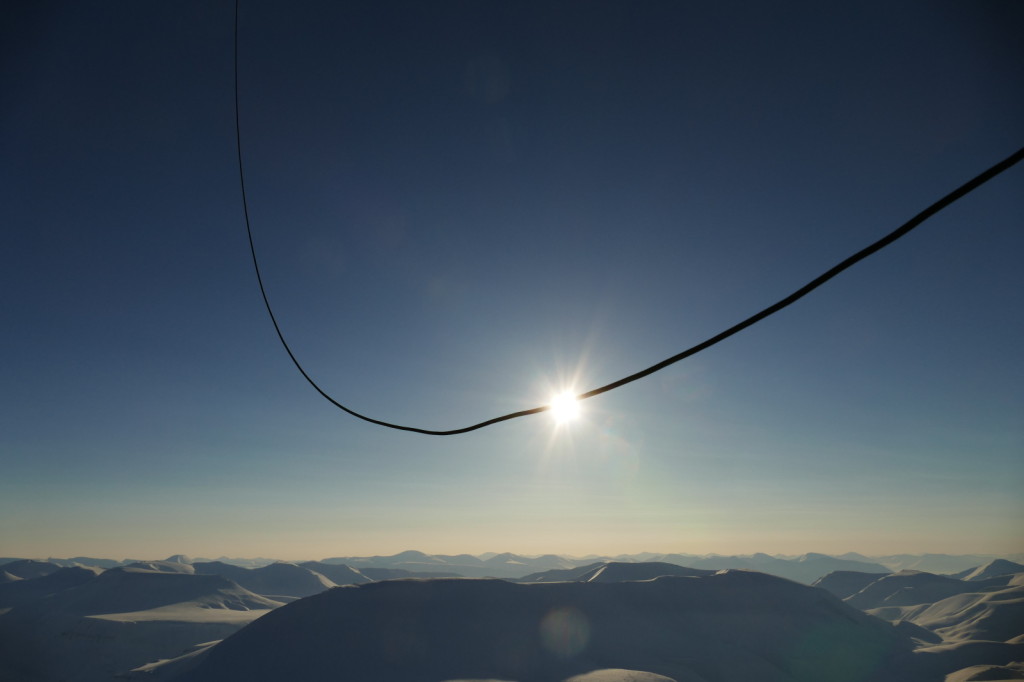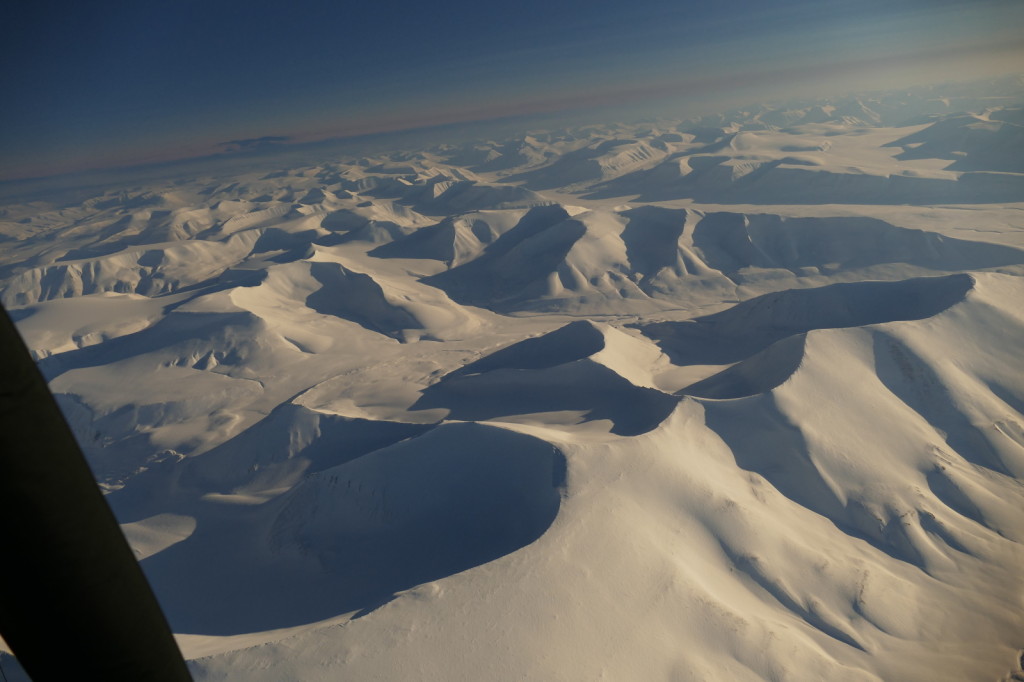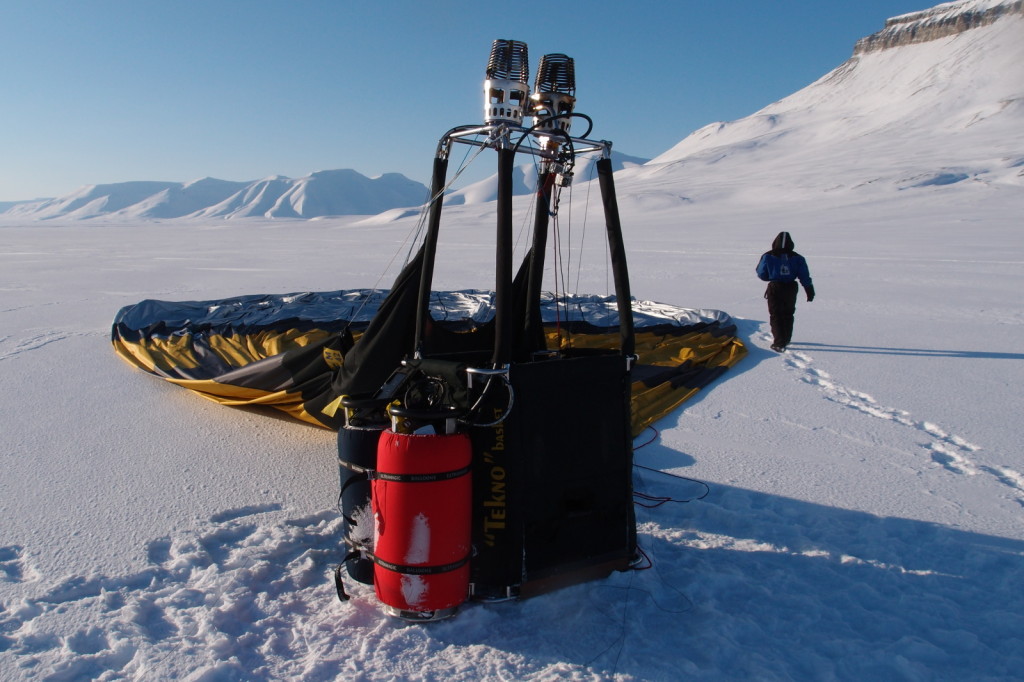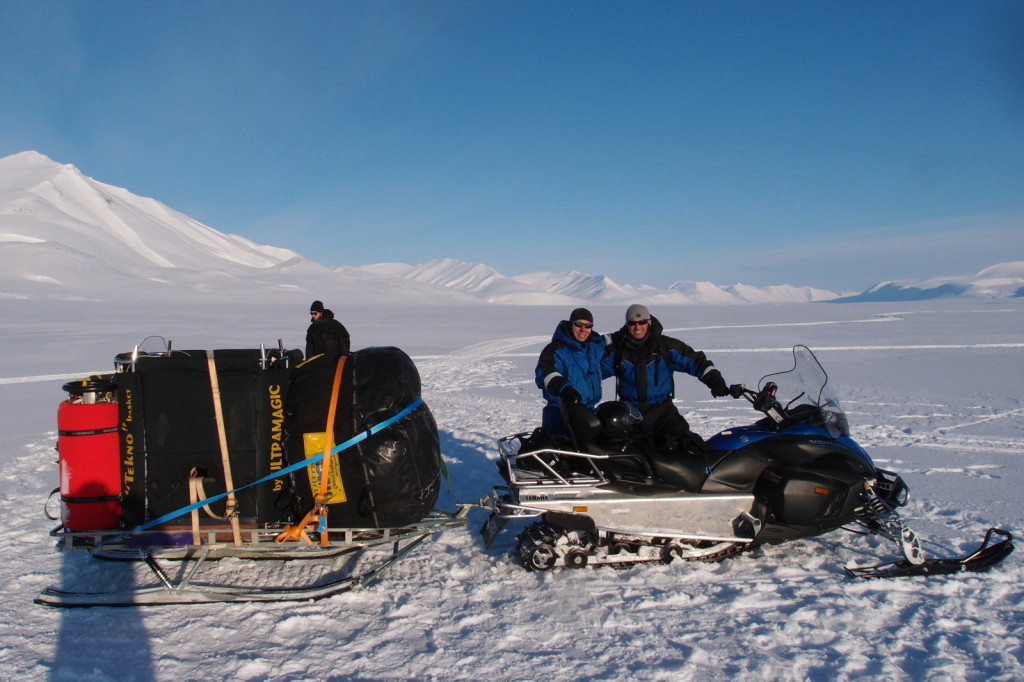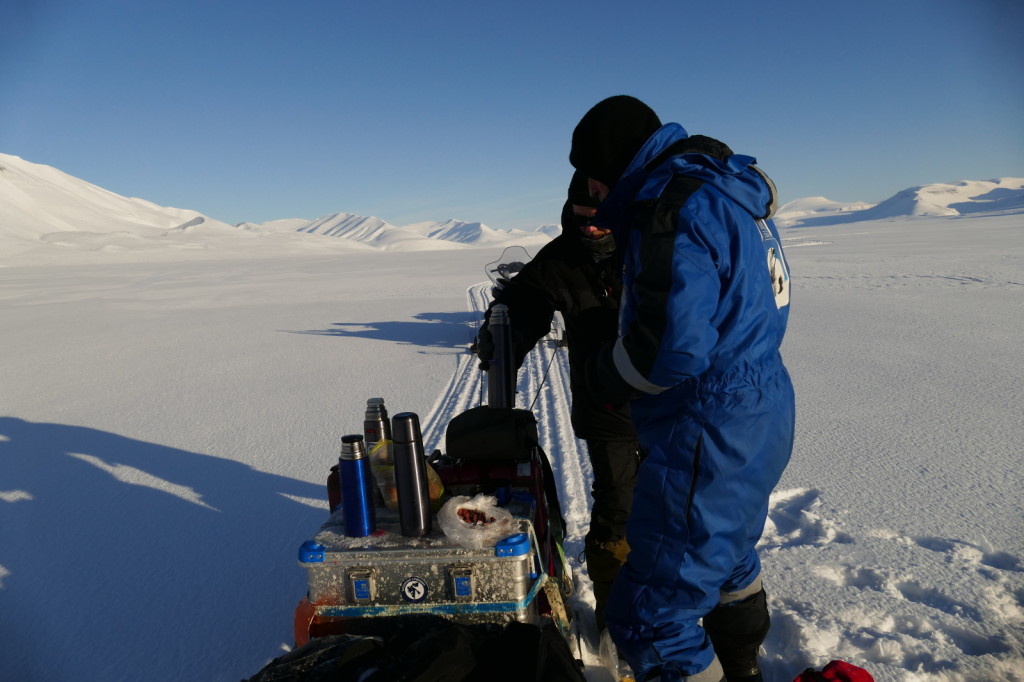 19 MARCH 2015
With a good weather forecast with wind from the north, we decide to go at half way from the valley of Adventalen to the valley of Reindalen. Visibility was perfect and it has been a good test for tomorrow during the eclipse. Today we could manage to fly over some mountain and also to fly near the ground in the valley without the problems from yesterday. As we had a good sunshine, there were some shadows that were helpful to see the distance from the ground.  So no problem to fly low, even the power from the burners was low because we did not pressurize. With a 42 and the new burner was good enoug to have power also for a distraction, that there wasn't today.  A lot of filming, pictures, etc. because we had time to fly and admire the landscape with all the beautiness of this area. The retrieve were below the balloon before we landed, so it was an easy exercise today because the forecast was accurate to the reality. Let's hope tomorrow is similar. We have already planned the flight for tomorrow and we hope we can be in the air during the full eclipse.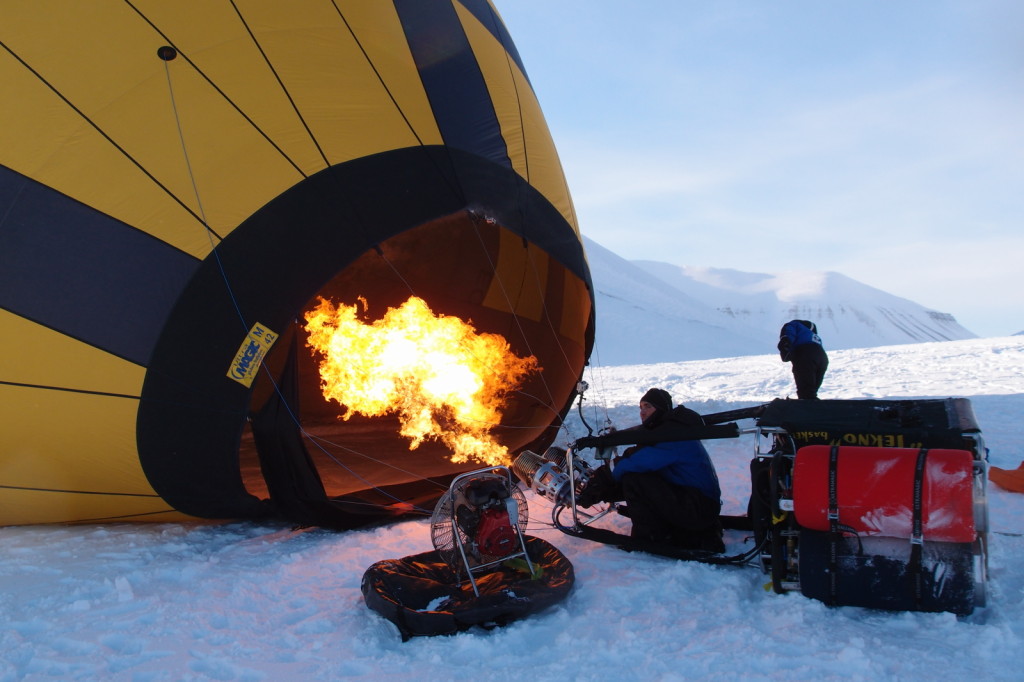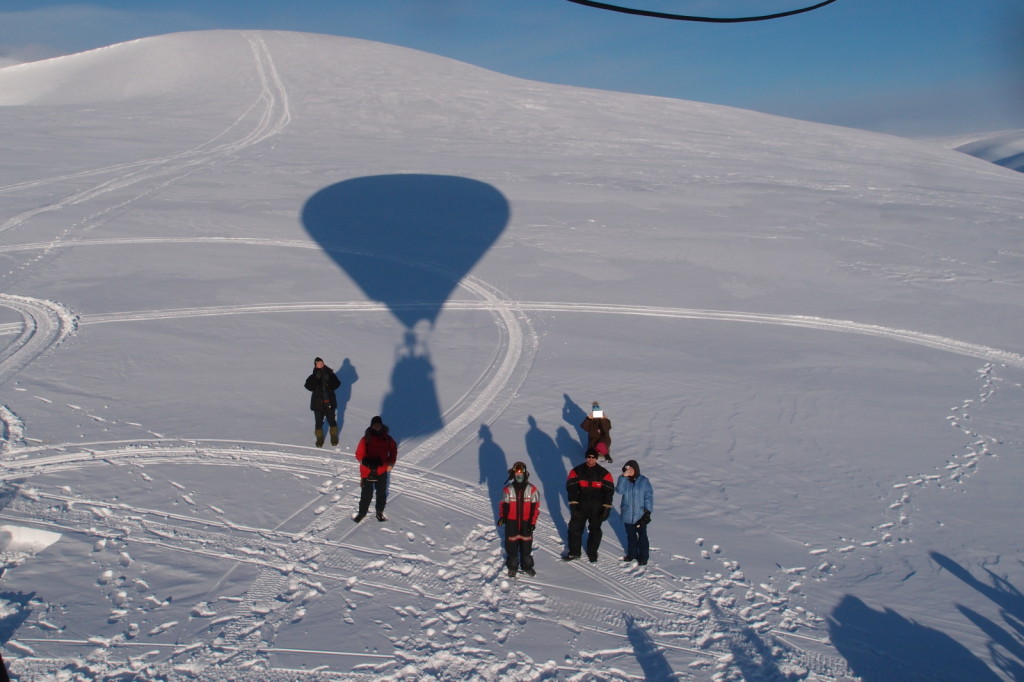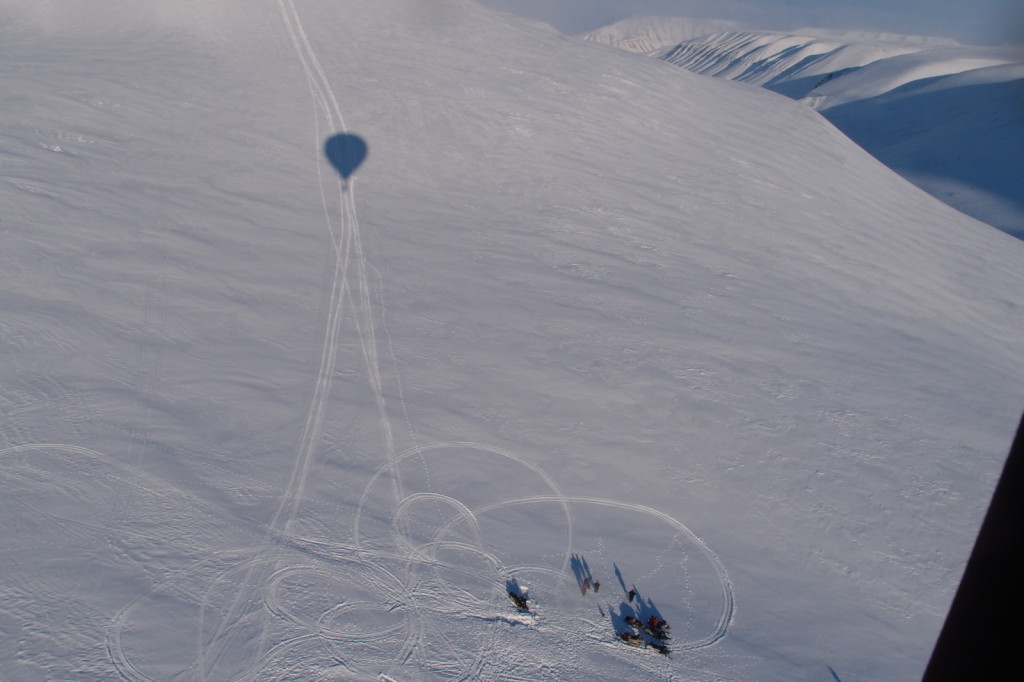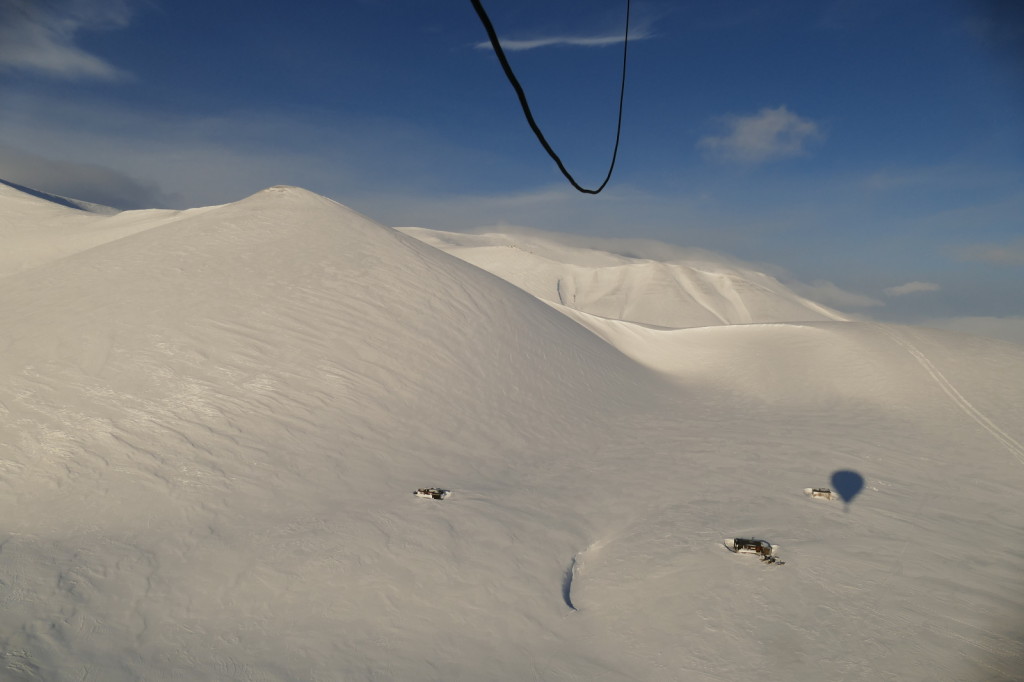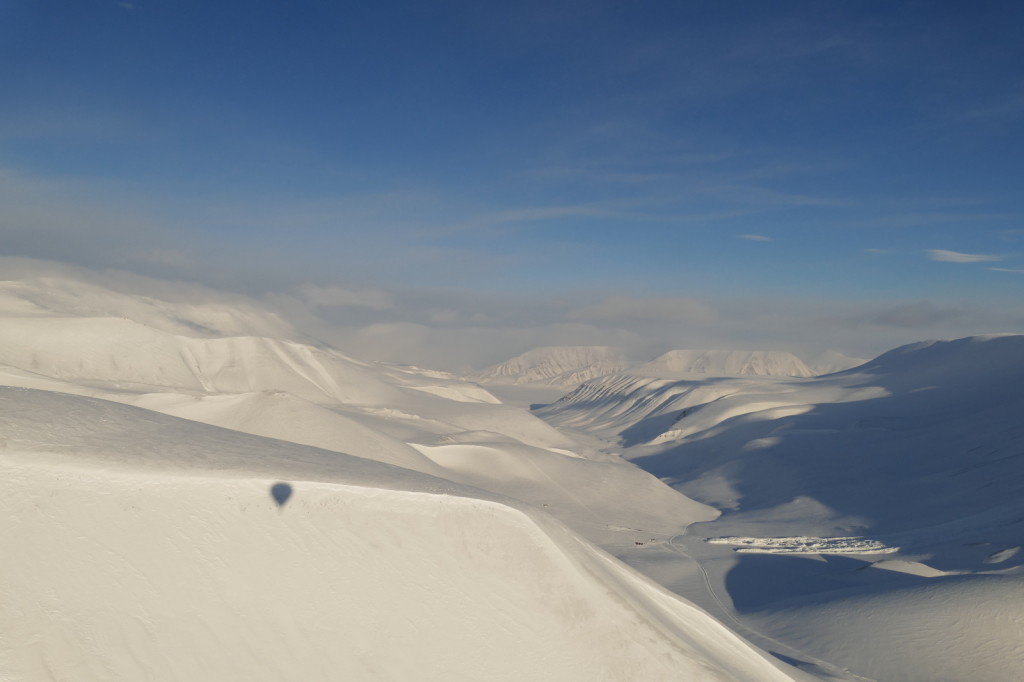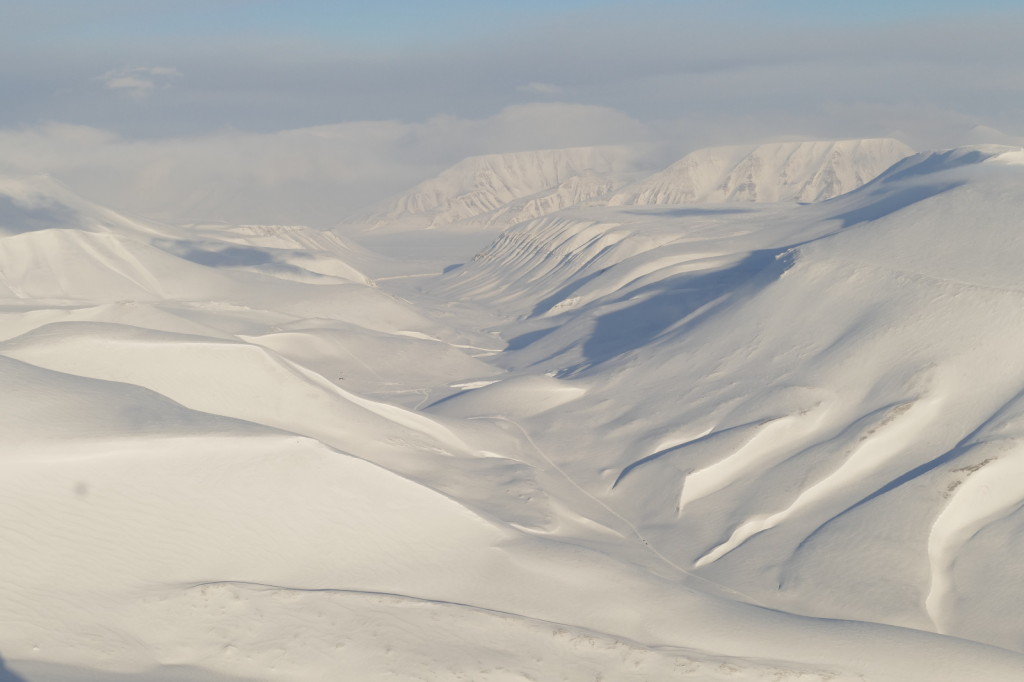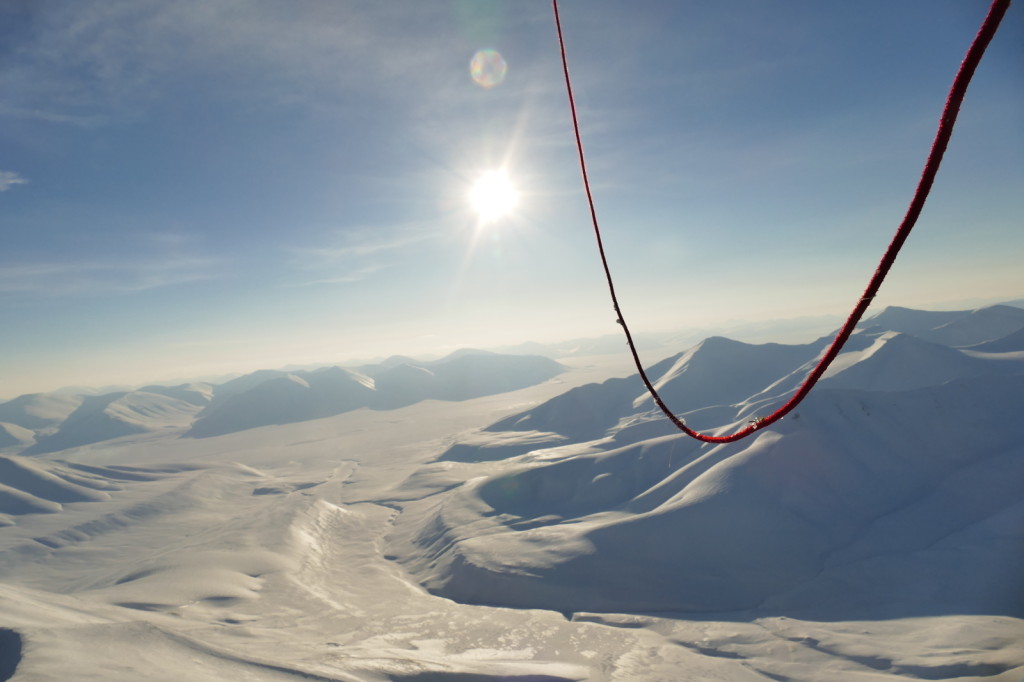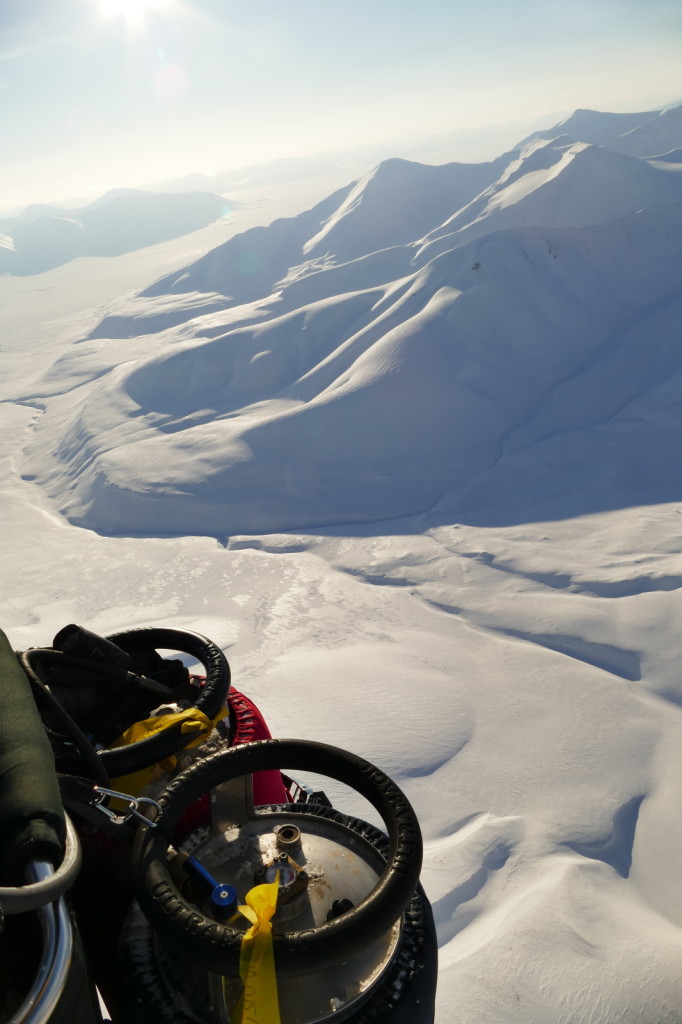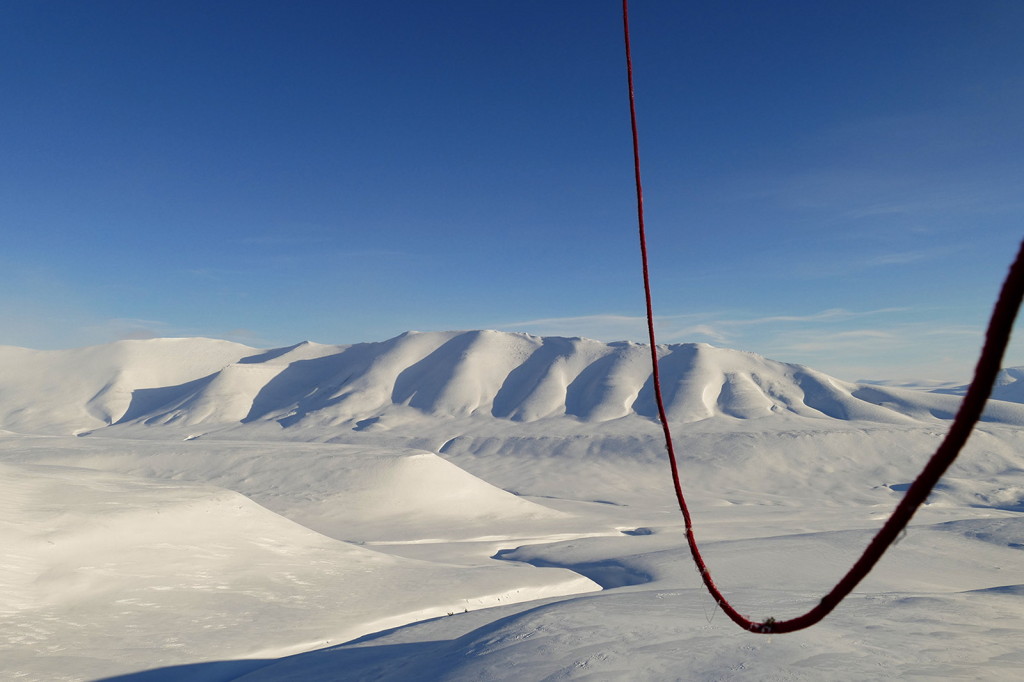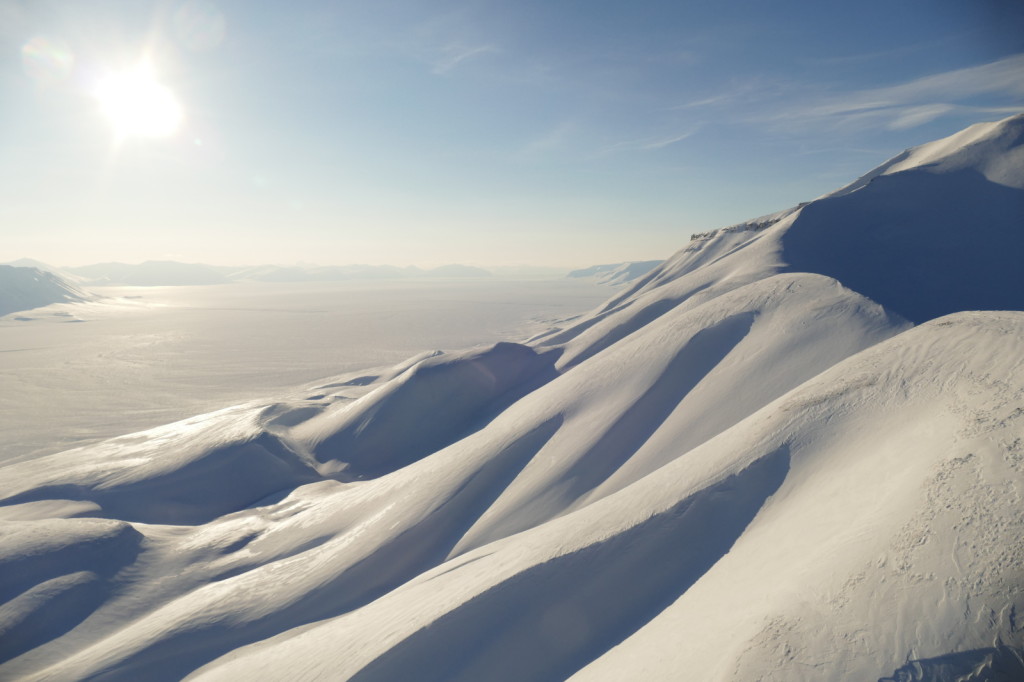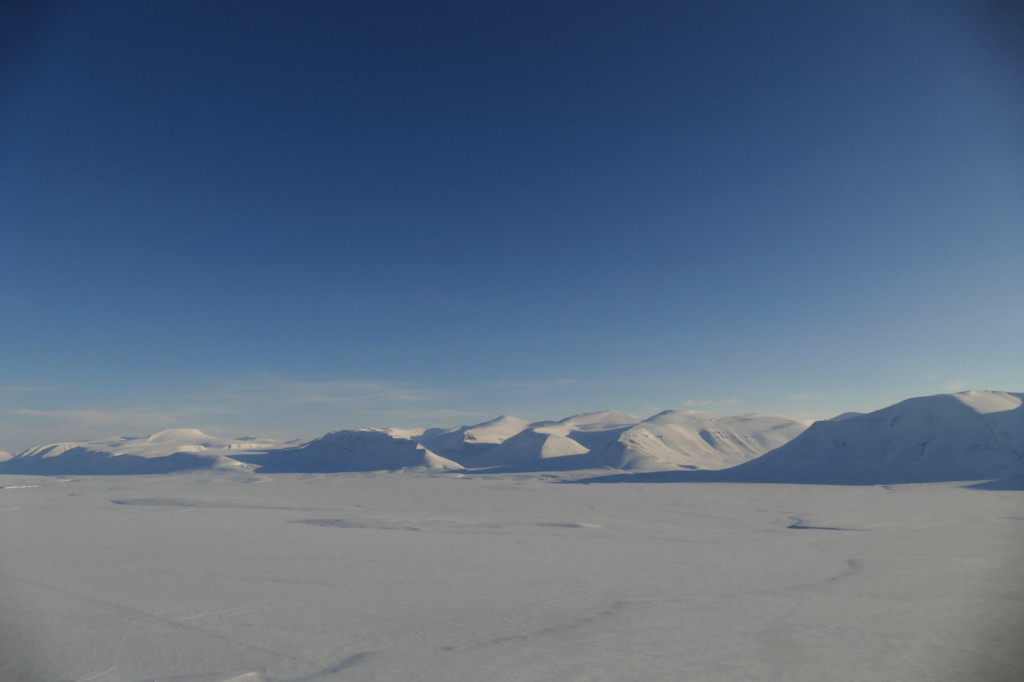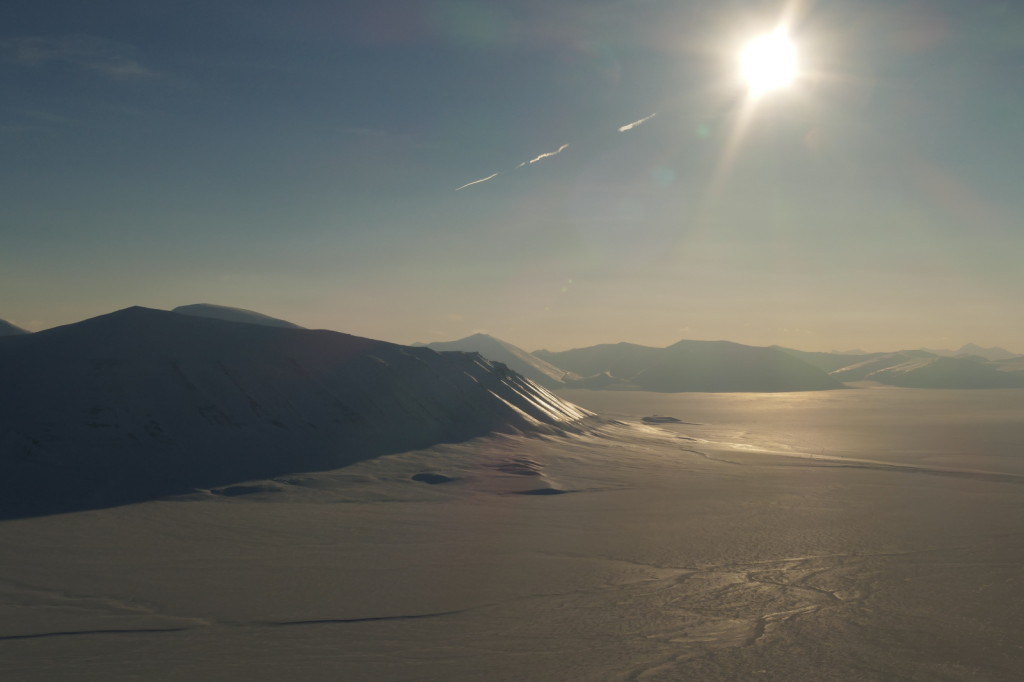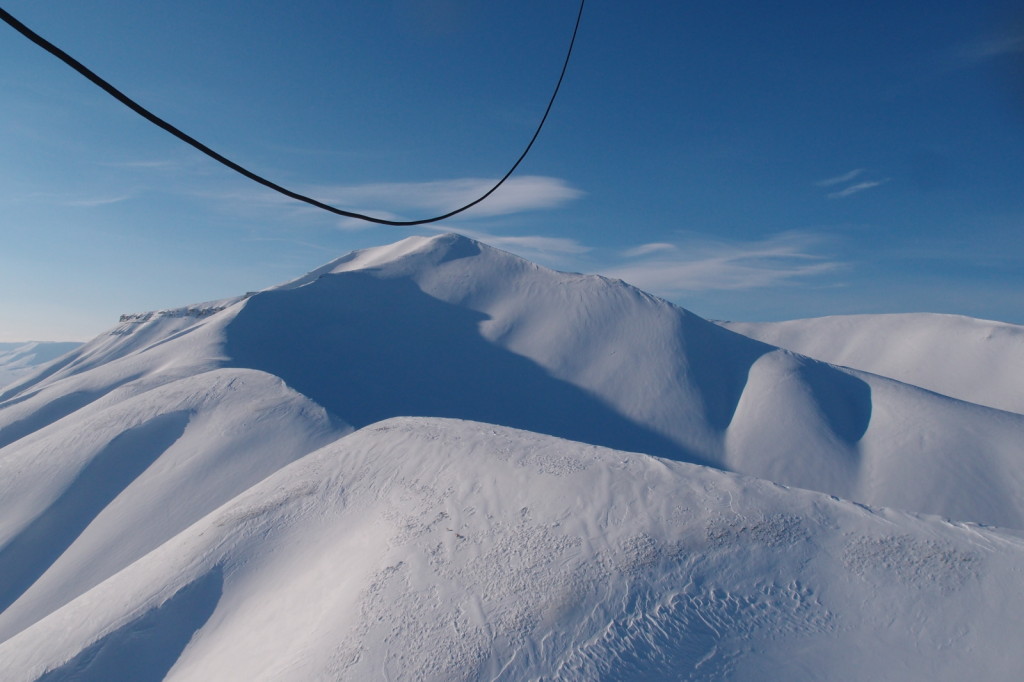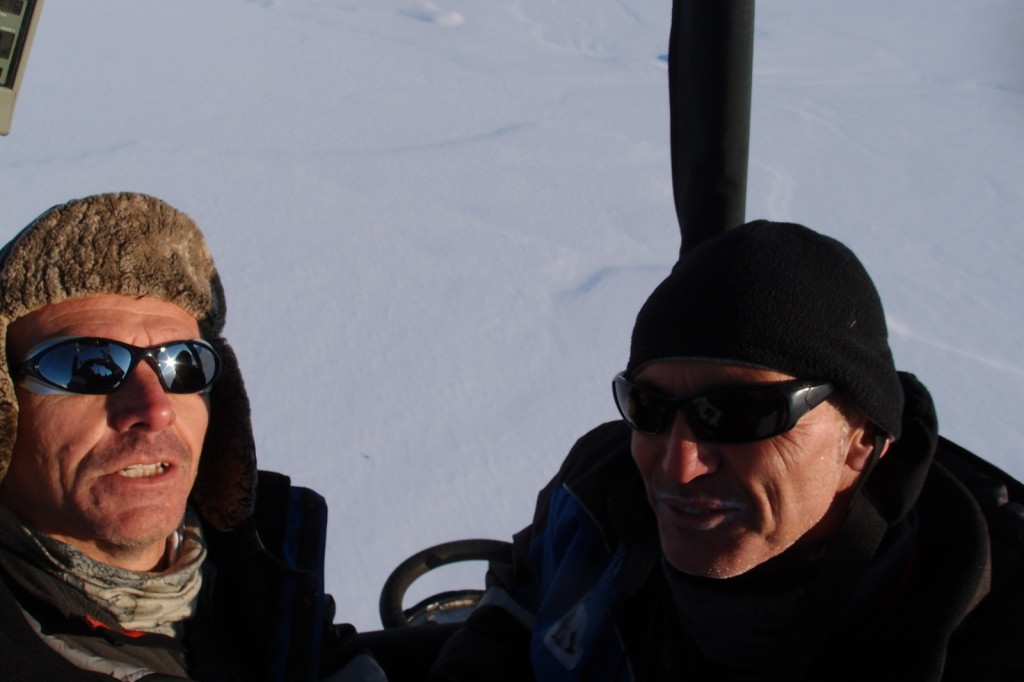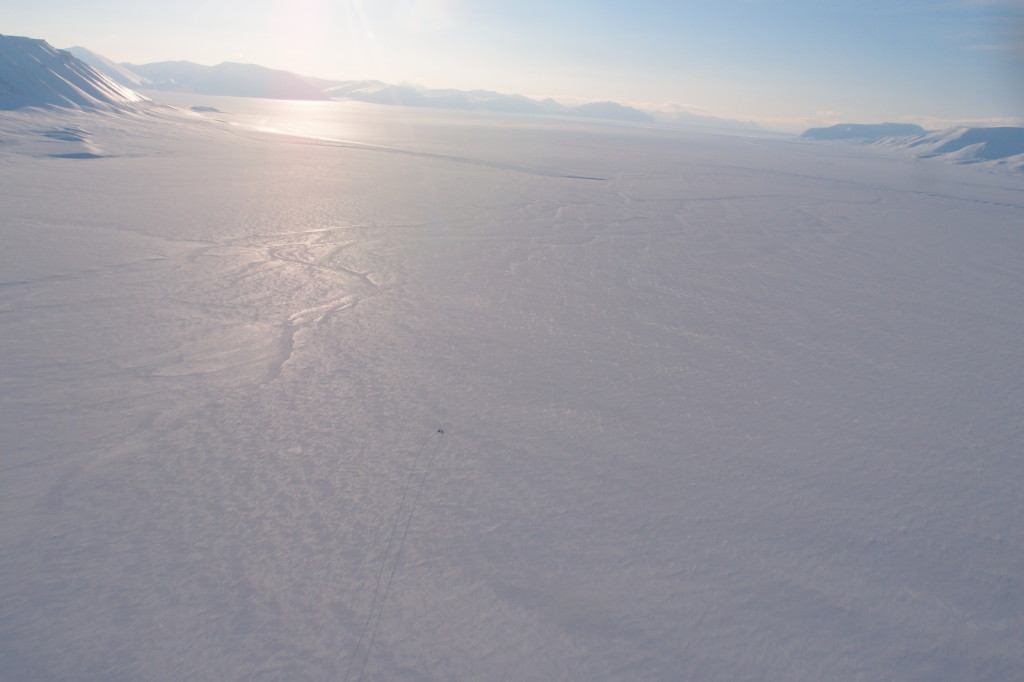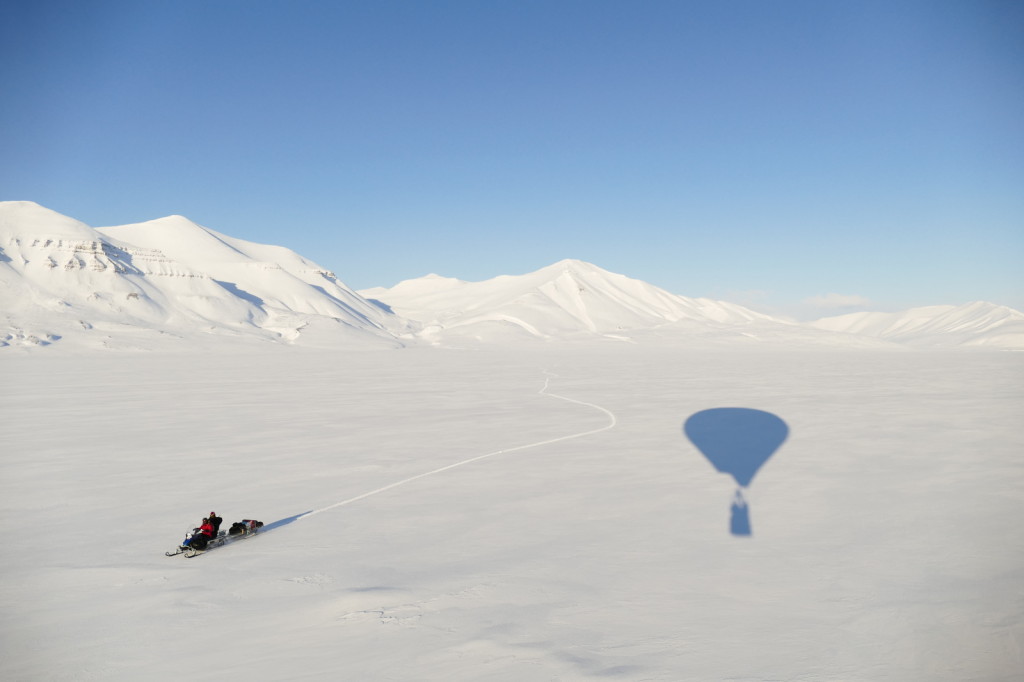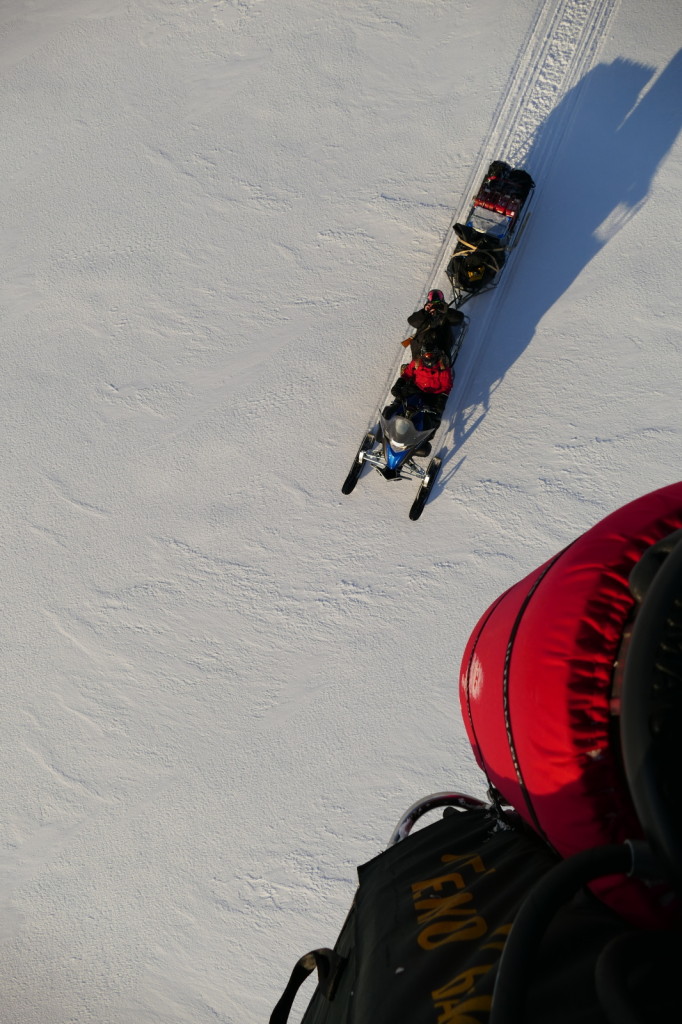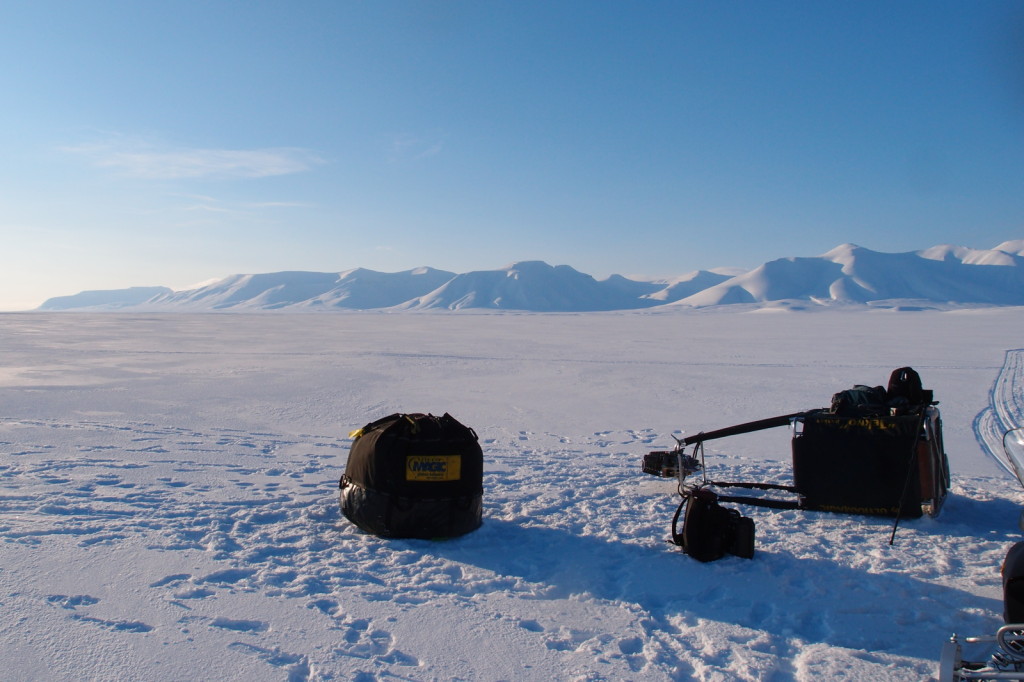 18 MARCH 2015
Arrived yesterday afternoon to Longyearbyen with all equipment as passenger luggage, today we have had the pleasure to make our first flight in Svalbard. Arrival here with all equipment, has been complicated, but we succeeded. So yesterday after being installed in the appartment, we went to fill our 2 x 30 Kg cylinders of propane. Here propane is expenive as it has to be brought from mainland and at this time of the year, very few ships are coming. So the M-42 Double layer top 40 % was the right balloon to bring. At this temperature (minus 20 ºC) we thought we could fly with the 2 30 Kg cylinders and 3 persons on board. The Tekno CT-01 (0,8 m x 1,00 m) with the cylinders outside was our choice and after the first flight, we think it was a right decision.
The wind today was forecasted to not be strong, so anytime could be good, but at around 12 was expected to have poor visibility and in fact it happened.
We moved with the snowmobiles to a big valley south of the town, so not to disturb in the airport and also to have a wide nice area to fly. Counseled by Jacob , our tour guide who has solved several important points so we can fly, we drive to Nordenskiöld Land National Park . We prepare the balloon with some wind and we fly. It looks simple, but really we were lucky that the day after arrival we are flying with the balloon in a wonderful valley. It has been a flight so our guide knows how works the balloon and also we get familiar with the landscape and the balloon.
We could not find the appropriate conection for the nitrogen tank, so as we had already  tried already in Switzerland the new burner  MK-32 without presurization and worked quite well, we decide to fly anyway. With a small balloon M.42, we do not need much power, but flying at this temperatures, you need a minimum power that has been proved to be safe.
It has been a short flight of about half hour and we had the time to admire the special landscape of this latitudes. We were very happy to be flying here and we consider it as a privilege we can do and lucky enough to meet with the good weather.
Angel and Miquel from Kon-Tiki have a good experience also as they have flown in Greenland and advised specially to be carefull with the altitude as it is very dificult to know the distance when you are near the ground. Even that, because the visibility was not good, we had a ground touch without advertising any of us and taking it as a bad surprise. Fortunately all was OK and we continued our flight without problem. We asked the snowmobile to be near under the balloon and it worked well, but at the landing, which was a little windy, again we hit harder than expected, but at least this time we were all ready.
It has been a good test as with 3 pax on board with the 42 we just spent 20 Kg of gas including inflation, so we think we can do, weather permitting, longer flights in this wonderful laandscape.